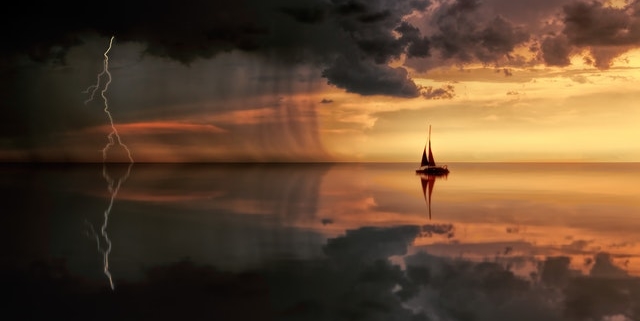 Cyclone and storm season has started – are you prepared?
Summer months bring hot weather and an increase in storm activity in Central Queensland, and while  severe thunderstorms are very localised events, not usually affecting wide areas as tropical cyclones and floods do, so their devastating impact is often underestimated.
Thunderstorms can occur anywhere and do so more frequently than any other major natural hazard. Each year severe thunderstorms are responsible, on average, for more damage (as measured by insurance costs) than tropical cyclones, earthquakes, bushfires and floods.
However, while insurance is always going to be your best risk management strategy for severe weather events,  a little bit of preparation can also go a long way to reducing the amount of damage to your property and business.
Below you'll find some tips from Vero for staying storm prepared.
Preparing for storm season
Weather events can happen at any time of the year, but most natural catastrophes occur between October and April.
We encourage you to follow the tips below to keep your home, car, business and loved ones safe.
Keep valuables, medications, important documents and spare clothing in plastic bags with your emergency kit
Remove fire hazards from the property and secure outdoor furniture and loose items
Rake bark, leaves, twigs and trim trees and overhanging branches
Remove all debris from around your property
Ensure your roof and windows are in good condition
Make sure to back up all business computer files
Use a camera to document the condition of your business and stock. This will help you make a claim in the event of a loss. Update these records at least once a year
Use a safe-deposit box or a safe to store your insurance policies and photographic documentation
Check the condition of the roof and repair loose tiles, eaves and roof screws
Clean gutters and downpipes so water can drain quickly
Identify how to turn off mains for water, power and gas
Store all poisons above ground in case of flash flooding
Make sure your property has clear access for emergency services
Keep your vehicle well-maintained including wipers, lights and spare tyre
Keep your vehicle's fuel tank full if there is a weather warning current to your district
Be aware of the process if you need to make a claim
Making a claim after a natural disaster
Contact your broker to lodge your claim.
Information you may be asked for
Policy number
 Full name and contact details (as per policy)
ABN if you are registered for GST
BSB and Account details to enable fast settlement of your claim (where applicable)
Detailed description of the loss or damage
 Location of the loss or damage
Tell us anything else that may assist us in helping you
Specific to motor claims:
Make, model and registration of the vehicle
Driver's name and date of birth
Event claim process
1. Lodge
 Lodge claim with your broker
Your broker will advise initial steps and requirements
Confirm damage
Arrange make-safe repairs
Issue emergency payment
Arrange temporary accommodation if needed
2. Assess
Make an assessment (if needed)
Get quotes for repair/replacement
3. End
Repairs or replacement complete
Cash settlements issued
Claim closed
Tips to progress the claim
Contact your broker who will be able to assist you and advise what information we may require
Read your PDS so you are familiar with your policy. Are you covered for fire, storm damage or for loss of business income resulting from these events?
Provide proof of ownership or loss documents as soon as possible (photos, owner's manual and item packaging or bank statements)
Where possible, provide photos of the damage
If you're providing a builders report or quote, make sure it specifies the cause of damage
Remove wet contents from inside and keep the premises ventilated to avoid mould
List items you've thrown away with clear descriptions and supporting photos. Include the brand, make and model number of electrical items
Remove all damaged carpet and take photographs of damage in each room. Keep a metre squared sample or photograph the back where the make and brand is stamped so we can attempt to replace with similar carpet
Dispose of contaminated food as soon as possible keeping a list and/or photos of what perished
Keep receipts for emergency repairs (car lights, wiper blades, glass windows
Related articles from the team at IAGB
Cyclone Season is here; are you prepared? 
https://www.piranhainsurance.com.au/wp-content/uploads/2018/11/pexels-photo-1118874.jpeg
358
640
admin
https://www.piranhainsurance.com.au/wp-content/uploads/2021/12/Piranha-logo-RGB-01-002-300x121.jpg
admin
2019-12-10 06:38:34
2019-12-05 01:53:40
Cyclone and storm season has started – are you prepared?