Piranha Christmas Letter – 2015 The Year in Review
To say that it has been a difficult year would probably be an understatement as we faced many difficulties throughout the year. The continual decline within the mining industry has certainly impacted on our area in Central Queensland. The drought out west and the continual fall in the resources sector have caused us to have to tighten the purse strings and we can only thank our team here for their continued effort to keep us going. Since 1978 Piranha Insurance Brokers has been a local broker and in fact we are the only family owned Brokerage in Rockhampton. We must be doing something right as we held our portfolio to a slight increase on 2014. We couldn't do this without the people. I have always said, look after the people and the money will come. I stand by this statement since 1978.
We have always believed that insurance is something you don't want to talk about until you need it and you never know how good your policy is until you need to make a claim. This brings about an enormous amount of pressure and expectation on the broker to get claims paid. Unfortunately due to the overwhelming work load from cyclone Marcia earlier this year it felt like I lost the fight and the Black Dog of depression certainly attached itself to me. However as time passes and my treatment progresses I continue to get better, which I can't thank my team enough for.
We have processed well over 400 claims year resulting in tens of millions of dollars due to cyclone Marcia. I believe we had a 99% success rate and again I can only thank the team and my wife Heather for their constant support.
The Piranha Insurance team consists of our son Nathan who moved in a new home on acreage at The Olive Estate, Raquel & the 3 children Ella, Nash & Lucia just love the pool.
Along with Ross Hudson and Tracey Cook our senior brokers, Lorraine Tree working in finance administration, Nicky Crow my personal assistant, Carol Shadlow, Hannah White & Danielle Farrell. It's a delight for me to go and watch Carol & Darrin's boys play football (Riley, Dayne & Kelly) as they grow they get better & stronger. I am sure that at least one, if not all will be playing State of Origin for Queensland in the future. Tracey and Shane Cook's two children continue to grow and I a mean GROW!! Anna is now taller than Tracey and Kyle is quickly catching his father and looks smashing in his cadet uniform, both children a credit to them. Nicky's daughter Jaz graduated from Emmaus College this year and her youngest Jake will go into Year 9 next year.
This year we had Bryan and Alana West of West Insurance Brokers who are based at Capella as well as their lovely baby boy Heath join our team as an Authorised Rep. You will not find a better country Insurance Broker than Bryan. But be prepared for a long chat when he pulls up a chair at the table. His dedication to his country clients as well as his city clients is just remarkable. He drives huge hours all over the Central West and then drives into our CQIB Training meetings. He also made the trip for our annual Christmas Party.
Ross "Old Faithfull" has been with us the longest since leaving AAMI in 1997 and is still a firm favourite with our business clients. Shaan his wife suffered the misfortune of accidently dropping a table on her foot this year whilst at work which has given her quite a bit of grief. Anthony their son is doing well at university and Ashley their daughter has completed her first year at high school.
We had a lovely surprise this year when we were invited to attend Trent & Hannah's engagement party which turned into a surprise wedding. Our Hannah looked like Maid Marian, as beautiful as ever and even Trent (AKA) George Junior scrubbed up well, for their elegant garden wedding at Hannah's parent's property.
This year we welcome Danielle Farrell a trainee to our team who joined us in her last term of year 12. It is a pleasure to have another young member in our team.
As many of you would already know, Andrew Thackeray manages the Life Insurance and Income Protection arm of our business – "Piranha Insurance Services". Andrew and his wife Julie-Ann have just moved out to an acre at Rockyview and have 2 daughters (Jacinta and Lara). Jacinta has just obtained her Learner's Licence last week and Lara is heading into year 10. Andrew has won various awards over the last 4 years, the highlights are winning the M3 Young adviser of the year award in 2011 and the M3 professionalism award in 2013. The latter earning him a place in the 2014 M3 Galaxy of stars and 2014/2015 membership to the life insurance Million Dollar Round Table (MDRT) including a trip to the 2014 annual MDRT Convention in Toronto Canada as well as a meeting on the 68th Floor of the Rockefeller Centre in New York City. Andrew has come such a long way over the last 12 years, so it gives me great pleasure to announce that in 2016, I will be handing over the reins to Andrew as he has agreed to purchase this arm of the business from Heather and myself. Andrew will continue to run Piranha Insurance Services out of the same office here at 168 Denison Street Rockhampton and business will continue on as it always has. In 1978 I began my insurance career as a Life insurance agent and this business has always occupied a special place in my heart. 37 years later and whilst it is hard to let go, I know that Piranha Insurance Services is in good hands and I look forward to working in partnership with Andrew moving forward.
We continue to have our office social gatherings because it is a way of getting the partners of our team involved in understanding the pressures of this industry. We have had our annual Christmas party and it was a lovely surprise to see Woody from QBE who drove up on the Friday afternoon and stayed at our house Friday & Saturday night. Pat Campbell from VERO also flew up Friday and flew home Saturday. Both Pat & Woody have been our BDM's and personal friends for close on 20 years. As a broker we have the opportunity to place a client's business with a multitude of underwriters. However when you believe in the product you are selling and have pride in your business you choose the people that you are comfortable with and can count on.
We will continue to be here in 2016 and beyond as we firmly believe that the region needs a local broker and face you can put a name to. Our brokerage is strongly back by Steadfast being a member of CQIB and NIBA whom can bring the personal touch.
Please enjoy your Christmas and have a safe and prosperous New Year, take care on the road's and hug your children every day.
Breast Ever Brunch
On Monday 3rd August, Piranha staff hosted a "Breast Ever Brunch" fundraiser in aid of the Mater 'Chicks in Pink' Foundation. We invited our clients, family and friends and with over 25 people attending we raised a whopping $470 for this very worthy cause. The Chicks in Pink support all women who are diagnosed with Breast Cancer by handing our Pink Care Packs, Parking Vouchers, House Cleaning Services, Counselling programs, Mastectomy Bras, Art & Yoga Therapy and much more.
'By supporting Mater Chicks in Pink you're directly helping women come back from Breast Cancer in ways that are practical, spiritual and above all, very, very real'. Lucy – Breast Cancer Survivor
We all know someone who has been affected either directly or indirectly with Breast Cancer and our Piranha team were shocked when one of our close friends who is also a loyal and long term client was recently diagnosed. This prompted us into action with all the team contributing the food and drinks. We would like to thank everyone who came along and supported this event.
Marcia Proves Value of Insurance
Some Better Than None: Broker advises home owners to do their homework
Piranha Wedding
On the weekend our much loved youngest team member Hannah had a surprise wedding. Hannah married Trent White in a ceremony at her parents property near Emu Park after disguising the celebration as an Engagement Party. 90 family and friends celebrated with Hannah & Trent long into the night. Hannah and Trent will honeymoon at Maleny before making their way back to their home and dog in Rocky. Hannah then needs to 'get back to work' as we all miss her!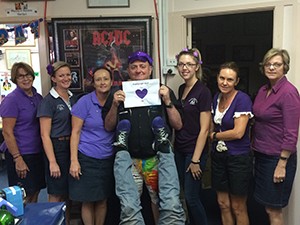 Purple Day for Epilepsy
On Thursday 26th March, 2015, the staff at Piranha Insurance Brokers helped celebrate the Epilepsy Foundations 'Purple Day' to help raise awareness of Epilepsy. This is a cause very close to our heart at Piranha Insurance as our staff member Nicky has a 16 year old daughter Jaz who suffers epilepsy. Everyone has seen how this has affected Jaz and her family and are amazed at Jaz's resilience and strength with dealing with this disease. Jaz was very touched by this 'gesture' to her and all other epilepsy sufferers. If you would like to donate to this cause it not too late. Just go to www.epilepsy.org.au/Purple_Day.
Heritage Hotel Says Goodbye
Rockhampton's Heritage Hotel has officially closed its doors for the last time.
Broker Claims Owners Unaware
Rocky's Peter Peirano says local businesses need insurance education after TC Marcia.
Insurer Faces Deluge of Claims
Endeavour Foundation – One Minute eNews
Certificates and celebrations  – 11th December 2014
The team at the Rockhampton business service have been recognised for their achievements at the annual Rockhampton Capricorn Rotary Awards.
Darryl Phillips is one of many employees who received a certificate from Rockhampton Capricorn Rotary Club President, Peter Piranha.
Thanks to the South Rockhampton Rotary Club for providing lunch on the day.
Congratulations to all involved!
Oaks Day – November 2014
Peter and Heather attended the Oaks Day this year, their photo featuring in the Bendigo Advisor.
Piranha Insurance Ladies Day Callagahan Park Races Friday 7 Nov
Steadfast Brokers – Man Up!
Steadfast broker Peter Peirano, Director of Piranha Insurance Brokers has taken a stance on men's health and prostate cancer in particular. Read the article that appeared 'The Bulletin' newspaper in Rockhampton on October 9th 2014.
Rotary Awards 2014
Shane Croucher thanked Peter for the great time the workers had at the annual 2014 Rockhampton Capricorn Rotary Awards.
"The day was set off with the interview with Win TV and of course the lunch that Rotary provided. The Award ceremony is one of the highlights our workers look forward to throughout the year and are constantly asking "Am I getting an award this year and will that funny man be there?" That funny man would be you Peter, the way you interact with our workers makes the ceremony so exciting and enjoyable."
Take a look at some photos from the day below.
Piranha Insurance in the Media
The Drift – MP urges blokes to take their Wally to the Doctor.
Piranha Insurance Brokers
ABN 50 010 452 190
AFSL 230 917
Phone 07 4927 8400
Fax 07 4922 2818
Free Call 1800 650 077
Piranha Chambers
168 Denison St
Rockhampton Q 4700
Po Box 1251
Rockhampton Q 4700